David Kipp – Director of Choral Activities
dkipp@tamu.edu
David L. Kipp is in his twenty-eighth year as the thirteenth director of the Texas A&M University Singing Cadets.  Kipp uses his experience in musical theater, voice, and choral direction to help the Singing Cadets perfect music for its eighty-plus concerts each year.  He also lends his baritone voice to the group on occasion and performs solos in full Singing Cadet concerts.
Kipp received a Bachelor of Music degree in voice and choral conducting from Baylor University and a Master of Music degree in choral conducting from Southwestern Baptist Theological Seminary.  He performed in many choral and vocal activities, led many campus activities, and was selected by Baylor faculty as the outstanding Baylor student his sophomore and senior years.  The School of Music also honored him as the outstanding Music Major his senior year, and he served as the Baylor Bear Mascot Trainer for three years attending 50+ football games with a live North American Black Bear.  His love for students led to his appointment as Co-Director of Welcome Week–the freshman orientation program.
After Kipp's undergraduate and graduate training he made his conducting debut at Carnegie Hall and at The Kennedy Center in 1996 during his inaugural year with Texas A&M University.  Groups Mr. Kipp has conducted have performed at many major venues in ten international concert tours on six continents and have recorded thirty-one professional recordings.  The Texas A&M Singing Cadets under Kipp's direction perform more than any other collegiate choir in the United States averaging 80+ concerts each year and over 2000 performances and 1 million miles traveled during his tenure.  Appearances have also included numerous television appearances and command performances by Honorary Singing Cadets President and Mrs. George H.W. Bush.
In addition to directing the Singing Cadets at Texas A&M University, Kipp is the Director of Choral Activities which includes the Century Singers (male and female chorus) and the Women's Chorus (all-female chorus).  He has been Director of Music for many churches in Texas and has presented numerous personal concerts. Kipp has adjudicated many choral contests and has served as a clinician at many choral events.  Kipp is a member of the Texas Choral Director's Association, the American Choral Director's Association, the Texas Music Educators National Conference, and the Music Educators National Conference.
Thomas Gerber – Assistant Director of Choral Activities
tgerber@tamu.edu
Originally from Austin, Minnesota, Thomas Gerber serves as the Assistant Director of Choral Activities at Texas A&M University, where he is honored to direct the Century Singers and Women's Chorus. Before arriving at Texas A&M, he served as Music Director at Bishop England High School, where he conducted the Mixed Choir, Chorale, and Chamber Choir. During his tenure, the choirs of Bishop England made their Carnegie Hall debut, performing Lauridsen's Lux Aeterna and the Carnegie Hall premiere of William Menefields, Prism. In 2016 he was the recipient of the Outstanding New Faculty Member award. During his time at Bishop England, he also taught music history and music theory and was music director for the annual Spring musicals.
Gerber served as the Associate Music Director of the Charleston Symphony Orchestra Chorus from 2018-2020. During this time, he had the pleasure of preparing annual performances of Handel's Messiah. Additionally, in 2019 he prepared the chorus for Harry Potter and the Prisoner of Azkaban™ in collaboration with CineConcerts and their Harry Potter™ Film Concert Series.
Gerber received his Bachelor of Arts in Choral and Instrumental Music Education from Luther College in Decorah, IA, under Dr. Allen Hightower and Dr. Edwin Andereck, where he was a section leader of the internationally acclaimed Nordic Choir. Gerber received his Master of Music in Choral Conducting from the University of Cincinnati College-Conservatory of Music in Cincinnati, OH, under the tutelage of Dr. Earl Rivers and Dr. Brett Scott while also studying voice with David Adams. While at CCM, Gerber served as a graduate research assistant to Dr. Eva Floyd and also taught the undergraduate voice methods class and voice lessons. Currently, he is finishing up his DMA in Choral Conducting with a related field in Vocal Pedagogy at the University of North Texas, Denton, TX, where he is a student of Dr. Allen Hightower, Dr. Kristina MacMullen, and Dr. Stephen Austin.
Gerber has an extensive background in outdoor ministry and enjoys working with students of all ages and abilities. He has a strong desire to make music available to those who might not have the opportunity or the means. He is passionate about getting as many people involved in a choir as possible, all while creating a sense of community through musical creation. When he's not performing, Tom can be found jogging or walking his dog, Chloe, and enjoying the outdoors!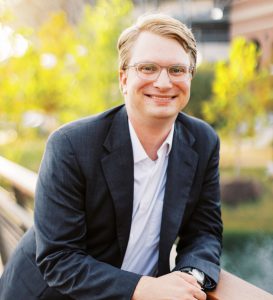 Bryce Reed – Lead Music Accompanist
brycereed@tamu.edu
Bryce Reed is in his fourth year as the pianist of the Texas A&M University Singing Cadets. He accompanies the Singing Cadets for all rehearsals, concerts, and tours, and provides technological, photographic, and videographic support to Music Activities.
Mr. Reed received his Bachelor of Music degree in piano performance from Baylor University in 2016. He was a member of the Baylor University Men's Choir under the direction of Dr. Randall Bradley for seven years beginning in 2012, an officer of the group from 2015 to 2019, and the accompanist for the Men's Choir from 2016 to 2019. During his tenure as accompanist, Mr. Reed toured twice a year with the choir, including performances at the American Choral Directors Association (ACDA) Southwest Conference in 2018 and the ACDA National Conference in 2019 in Kansas City. He also traveled internationally with the group and the Center for Christian Music Studies at Baylor on seven mission trips and served on the leadership teams for those to Kenya in 2017 and 2019 and Malaysia in 2018.
Mr. Reed has also worked both as the music director for St. Francis Episcopal Church in College Station, Texas, and the accompanist for the Brazos Valley Chorale, a local community choir, since 2021. He continues to freelance in photography and videography, with a focus on college students and the arts.
Jesse Novak – Music Accompanist
jnovak@tamu.edu
An avid chamber musician, pianist Jesse Novak loves collaborating with instrumentalists, vocalists, and choirs.  A 2022 graduate from the University of Houston, Jesse received her Bachelor of Music in Piano Performance under the tutelage Dr. Andrew Staupe, as well as world-renowned pianist Mrs. Nancy Weems.  Aside from performing, Jesse loves playing hymns, birdwatching, cross-stitching, walking, and cleaning house.
Amanda Hand '98- Administrative Coordinator
ahand@tamu.edu
Amanda joined Choral Activities after a 20-year career as a mental health therapist and non-profit management professional. She has a degree in Psychology from Texas A&M as well as Master's degrees from Michigan State and Regis University in Counseling and Nonprofit Management, respectively. A former Women's Chorus member and lifelong Aggie, Amanda jumped at the opportunity to work with the fantastic Aggie choirs. She enjoys her daily interactions with the students and can often be found sitting in on rehearsals and singing with the sopranos. She spent the first half of her life on stage doing musical theater and dance, and loves to be surrounded by beautiful music.
Amanda and her husband live in College Station with their two fabulous sons.  The daughter of two Aggies, John Young '66, former Ross Volunteer and A&M Vet School grad, and Sissy '70, and sister to Bill '94, she loves to watch Aggie football with her dad and drive around Aggieland on gameday completely decked out in maroon. Her door is always open and she welcomes you to stop by and say Howdy.